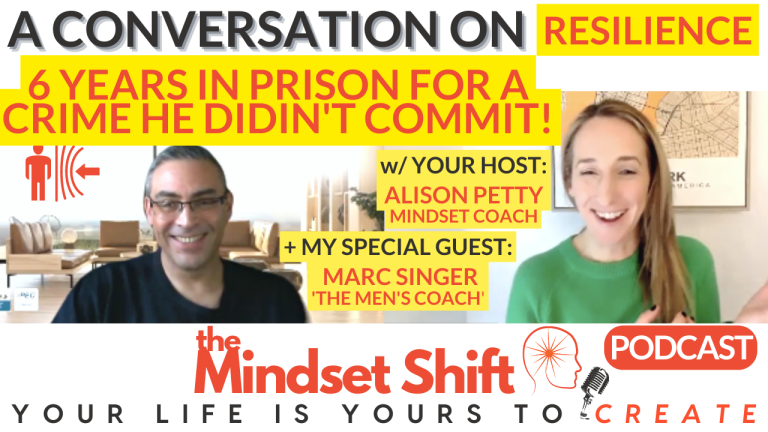 When Marc Singer and I first met it was quickly apparent to us both that we had lived very different versions of each others story. That of living in confinement for many years because of something that was outside of our control.
Marc's confinement was the four walls of a prison cell that he spent six years within for a crime he didn't commit.
My four walls were the twenty four years being predominantly bed, house and wheelchair bound due to the chronic illness's known as ME and Fibromyalgia.
Essentially, both of us had known what it's like to live in confinement and happily, we both now know what it's like to be on the outside living very full lives and making up for lost time.
For Marc, the life sentence is only a very small part of the dark times he went through. He also had to find the strength to get himself through thirty one bereavements whilst in prison. An unimaginably hard and painful journey if lived even in the outside world.
Listen as he tells his deeply moving and incredibly inspiring story of how he rose to the cards he was dealt and has overcome them to now be the strongest and most empowered version of himself.
⬇ WATCH our conversation on YouTube ⬇
> SUBSCRIBE < to my YouTube channel for more inspirational videos 🎥
And now, using all of the many life lessons accumulated and skills he has learned along the way, Marc now coaches others to ignite their own resilience so that they too can live their life to the very full.
As he now does.
You can find out more about Marc's coaching work via ➝ https://linktr.ee/marcsingercoaching
And of course, I tell the long story short of my health transformation.
How I was diagnosed with ME and Fibromyalgia at the age of 17 and then went on to spend the following 24 years predominantly bed bound, often in a wheelchair and from time to time on medication like valium and morphine for chronic muscle, bone, joint and even skin pain.
That was until 2016 when I attended an NLP training program called the Lightning Process and long story short, I never sat in a wheelchair again… but more importantly, I never relapsed again and have spent the last very happy 7 years since rock climbing and all kinds of adventuring and fully living my life!
My many thanks to Marc for sharing his incredibly powerful story with us and his insights on resilience.
Marc is a true inspiration who fully embodies my favourite NLP supposition of 'If he can do it then so can we'.
So grab that cuppa or go find a tree to chill under and allow Marc and I to tell you two true and inspiring stories that we hope will remind you of the inner power and resilience you also have within you.
Because whatever challenge is facing you… 'If Marc and I can do it… then so can you.'
And of course, if you have any questions or would like to chat all things mindset then you can connect with me via: www.alisonpetty.com/bookme
So until next time,
Go well, stay well and enjoy your mindset shift! 💫
Alison ツ