RESILIENCE AND TRANSFORMATIONAL COACHING
In 1992, my hospital specialist gave me the diagnosis of
M.E./CFS and Fibromyalgia.
I spent the following 24 years predominantly
bed and wheelchair bound.
In 2016, I attended an NLP based training program
and
I never sat in a wheelchair again…
…and have spent the last six years rock climbing, mountain biking and fully living!
#shortstory
A brief introduction to my health recovery story and coaching process

#longstory 
My M.E./CFS and Fibromyalgia recovery story and journey to NLP and becoming a Mindset Coach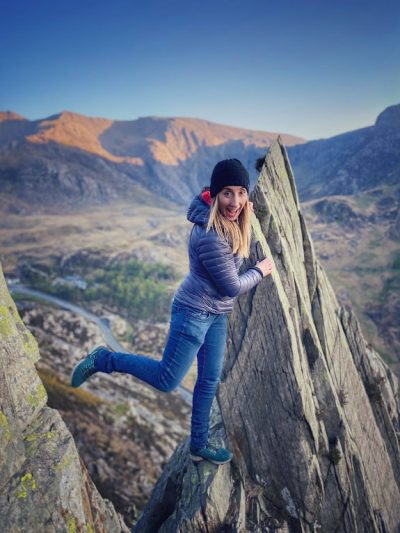 Scrambling in the Ogwen Valley, Snowdonia National Park
Photo by JB Mountain Skills © 2022
And now I am using my history to guide you in creating an empowered present and beautiful future for yourself that
is YOUR version of my epic rock climbing adventures!
We all have our own version of that wheelchair.
That 'thing' that's holding us back from fully living our life.
So what's your 'thing'?
Lacking in confidence and self-worth?
Covid + socialising anxiety?
A fear, phobia or unhealthy habit?
Anxiety, stress and/or a constant loop of negative thinking?
Stuck in an unhealthy relationship?
You have a goal that's always 'yet to be set'?
There's a general feeling of being 'stuck' and unable to move forward with your life?

Well, my life is now dedicated to using my personal life experience of creating powerful and
positive state shifts to coach and help you to create your very own inspiring version of my story.
Because if I can… then you can.
My qualifications:
Advanced Clinical Diploma in NLP, Coaching and Hypnotherapy
Diploma (L3) in Leadership and Management
Diploma in Mindfulness
I am fully insured, GDPR registered with the ICO and hold an enhanced DBS check.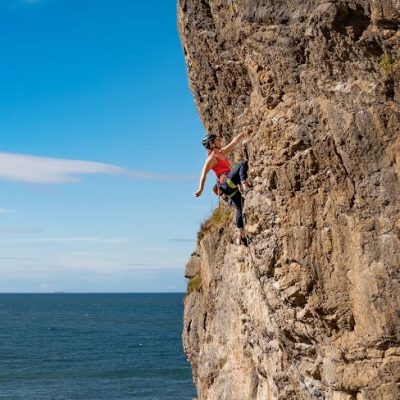 Rock climbing on Fedw Fawr, Anglesey
Photo by JB Mountain Skills © 2022

So if you would like to find out how I can help you to remove the blocks that are limiting your life,
then please get in touch and book your free coaching discovery call with me.
"I AM PASSIONATE about the POWER we hold within our brain to CREATE POWERFUL CHANGE in our lives. As a coach, there is nothing more FULFILLING than helping my clients HARNESS THIS POWER so that they can ENABLE POSITIVE CHANGE within their own
lives and lead others with
PASSION and PURPOSE."

~ Alison Petty Coaching ~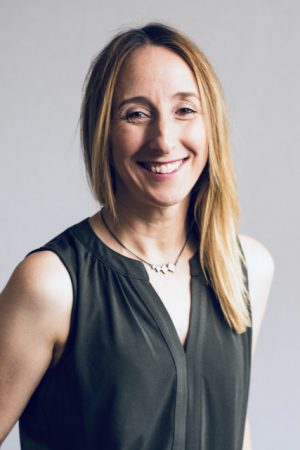 You can read the full story of my recovery from M.E/CFS and Fibromyalgia HERE
Due to my extraordinary journey back to full health, my passion and purpose is now guiding my own coaching clients from A to B and sometimes even to C, imparting skills that move one from 'stuck' to 'empowered' and transforming performance in their field of expertise and life from uncertain and anxious to calm, self-assured and empowered.
I welcome clients from all walks of life. Focused more on the person than the identity they present with, I transport my clients to their unique end goal by facilitating the removal of limiting beliefs that are blocking their path to success. I achieve this through powerful coaching conversations and the application of NLP (Neuro Linguistic Programming) techniques.
My unique coaching process enables my clients to find the answers for themselves. It is an empowering approach that bestows the client with a strong sense of achievement and deep realisation that they hold the power within themselves to create dynamic positive change within both their career and personal life.
With compassion, care and humour, I guide and support my clients along every step of their journey and ensure that they are equipped with the toolkit needed to self-coach as my end goal is that they will no longer require my support as they'll have 'got this'.
Connect with me for a free coaching discovery call to find out how I can help you create empowering change within your own life.
'Alison is a magician!
Before our coaching session, I was at a standstill with reaching my goal.
I knew what I wanted but had no clue how to get there or how to get over the barriers in my way.
Now I have faith in myself and my work. I am taking my time and producing work I'm truly proud of.
I'm looking forward to seeing what happens and what I'll achieve!'
'
Alison provided coaching sessions to me when I was going through some difficult times.
Her patience, pragmatic and caring nature made it incredibly easy for me to talk and open up to her.
Alison really knows how to listen, is non judgemental and made me view things in a very different way. She offered sound guidance and support, making suggestions and practical ways that she could help. Alison also provided additional support whenever needed.
Alison is an excellent coach and has provided me with many new tools to quieten the noise and manage.
I will continue to use Alison's coaching services and would thoroughly recommend her to anyone.'
'After only one session with Alison she
gave me a technique to rid myself quickly of my overwhelming fear and it works!
I'm looking forward to future sessions where I'm sure Alison can help me in my quest to live in the moment and become mindful.'